Momper - Ft. Wayne
2431 West Main St.
Fort Wayne, IN 46808
260-432-7543
888-330-7543
Momper - Elkhart
4421 Pine Creek Rd.
Elkhart, IN 46516
574-295-1683
Momper/Closet Creations
797 Madison St., Suite 1
Crown Point, IN 46307
219-663-7777
Fort Wayne, Indiana Insulation Experts
Types of Insulation for Homes in Northern Indiana
Insulation is a vital component of your home's exterior, protecting you from the elements and ensuring your home is energy-efficient. Installing insulation is the best way to keep your home warm and cozy in winter and cool during the summer.
For over 60 years, Momper Insulation has helped Fort Wayne, Elkhart and Crown Point homeowners reduce their energy bills and increase their family's comfort level by providing reliable, high-quality insulation products and services backed by stellar customer service from our experienced team.
If you're in the market for insulation for a new construction project or looking to re-insulate your existing home, Momper Insulation can help you determine the best type of insulation for you and your home.
Call us today toll-free at 888-330-7543 when you're ready for professional residential new construction or retrofit insulation services!
3 Types of Insulation for Your Home
Before deciding on insulation, it's important to understand that different types of insulation are right for different applications. Different types of home insulation can change the temperature inside your house depending on the weather conditions outside.
We carry three of the most popular types of insulation: spray foam, cellulose and fiberglass. Each has distinct benefits.
Spray Foam Insulation in Elkhart & Fort Wayne
Spray foam insulation is intended to seal gaps and leaks inside existing walls, doors, windows and vents. It is a form of liquid polyurethane mixed and sprayed into the wall cavity, where it then expands and hardens into a solid foam.
It's great to use in hard-to-reach areas such as attics, basements, interior walls and exterior walls.
Benefits of Spray Foam Insulation
Spray foam insulation was more popular in commercial buildings for many years. However, more and more homeowners are learning about the benefits of spray foam, and it has become a wise choice.
Enhances structural integrity: Spray foam adds strength to your home's structure when applied to the walls, floors or ceilings.
Provides air and moisture barriers: Spray foam prevents air from seeping in or leaking out. It also helps prevent moisture from penetrating the home, keeping your home drier, healthier and more comfortable.
Has higher R-values: Spray foam comes in two constructions: open-cell foam or denser closed-cell foam. Closed-cell foam has the highest R-value of any insulation. At Momper Insulation, we carry Homeseal N.A.I.S., an innovative closed-cell foam that is particularly good at stopping noise transfer.
Because spray foam must be applied carefully by a trained technician, we recommend you call our home insulation experts to handle your insulation installation!
Cellulose Insulation by Momper Insulation
For the eco-minded homeowner looking for a more organic way to insulate your Fort Wayne, Elkhart or Crown Point home, cellulose insulation is the answer.
Cellulose insulation materials are mainly recycled paper, recycled newspapers, finely shredded recycled cardboard and other kinds of papers consisting of up to 80% recycled content. The loose-fill content is treated with chemicals to improve the protection of your home from moisture, heat and pests.
Benefits of Cellulose Insulation
Reduces waste: Cellulose insulation helps reduce the amount of paper and other recycled materials in our landfills.
Allows for easy installation: This type of material can be installed dry or wet and is blown in. No measurements, cutting or rolling out are needed with cellulose insulation.
Resists damage: Cellulose insulation is chemically treated to resist mold and fire and helps reduce the cost of energy in your home.
Batt & Blown-In Fiberglass Insulation in Fort Wayne, Elkhart & Crown Point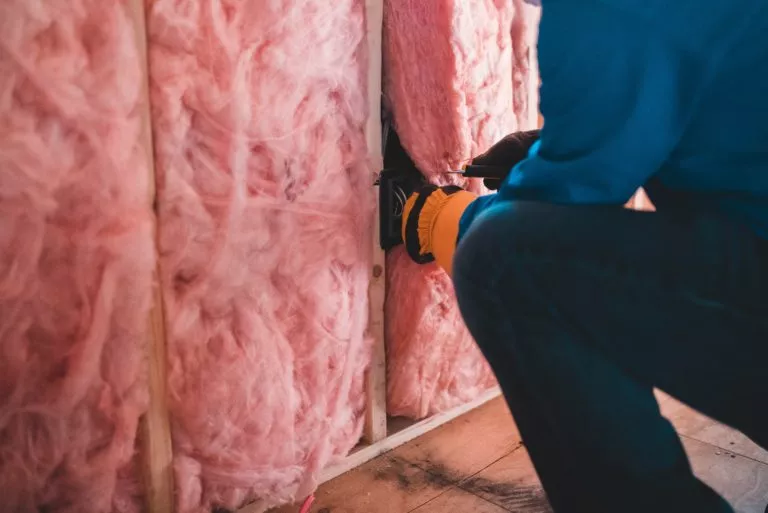 Fiberglass insulation is the most common form of insulation and is available in either loose-fill or batts. Fiberglass insulation is typically made of tiny glass fibers, although some are made of cotton, mineral wool, plastic fibers, or sand and recycled glass. It is mainly installed between joists, beams and studs.
Blown-in (loose-fill) fiberglass is very lightweight and is ideal for oddly shaped crevices or cavities. Batt fiberglass is available in rolls and pre-cut panels and is typically used for floors or walls.
Benefits of Fiberglass Insulation
Helps with noise reduction: Fiberglass insulation offers natural sound-dampening properties, which reduce the level of noise coming into your home and significantly reduce sound transmission in your home's walls, ceilings and floors.
Is environmentally friendly: Because fiberglass insulation has significant recycled content, it helps reduce the impact on the environment.
Provides moisture resistance: Fiberglass insulation is nonflammable and protects your home from water damage.
Seek Professional Insulation Installation from Momper Insulation
When considering installing insulation in your Northern Indiana home, there are several factors to consider, such as the amount required to achieve the desired R-value based on your geographic location.
Other considerations are the many product materials that are on the market. At Momper Insulation, our product materials come from the top manufacturers in the industry.
Contact us today to speak to one of our insulation specialists about which insulation product is best for you. Call us toll-free at 888-330-7543 to learn more and get started!